Travel
Caesars Palace Tower Guide
This site is not associated with and all rights to the 'Caesars' names belong to - Caesars Entertainment Corporation.
Below you will find, to Jon's best understanding, a map to the maze which is the Caesars Palace Las Vegas Towers. The base structure, to include the casino, have been left out for clarity in identifying the towers. Eat at the Bacchanal buffet!
Caesars Palace should be on everyone's short list of Las Vegas resorts to visit. The architecture and art alone are worth at least one day of enjoyment. Staying at this large resort can be confusing to the new visitor.
When you try to book a room at this amazing resort you are bombarded with not one, two or even three tower options. There are SIX seperate towers! Hopefully this color coded map will help you understand the situation (not to scale).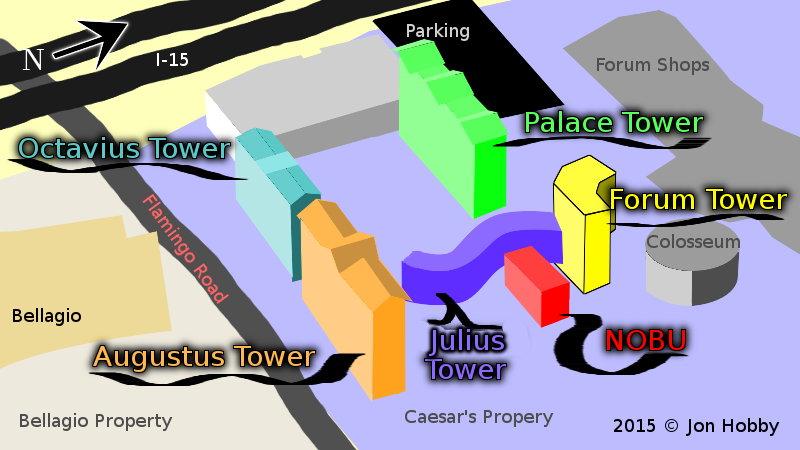 I'll guide you through the towers based on age. That makes the Roman Tower our first visit. (Above: lavender highlighted building) This is the oldest and, in my option, the most utilitarian of all the towers... BUT WAIT! For their fiftieth anniversary the remodeled this tower! Out with Utilitarian and enter luxury.
JULIUS TOWER QUICK SUMMARY: Out with the old, in with the new! Julius is alive and kicking in Las Vegas. The old Roman Tower has be reforged into the Julius Tower. $75 million dollars worth of luxury close to all the action! More on this new tower later... (Above: lavender highlighted building)
Next comes the NOBU tower. I know this is a newer name, but the tower was originally called the Centurion Tower and was completed in 1970. (Above: red highlighted building).
NOBU TOWER QUICK SUMMARY: I think of this as the luxurious Japanese-styled Tower. No great views, old building (freshly renovated), low floors are potentially noisy. Reception location can be a little bit confusing. That said, it is close to the action and very well appointed. To really enjoy the NOBU experience you want to get into a premium suite (March 2015 more than $3200/weeknight for the top-of-the-line NOBU Penthouse Suite) If you are NOT a window view person this lavish interior will keep you very happy. If you do not want to walk half a mile every time the mood hits you to play some tables then this place is for you. It seems to cater to well-off people who want privacy, modern interiors, and who like Japanese styling. Be aware and don't get frazzled by a slightly obscure check-in desk. NOTE: HUGE TV!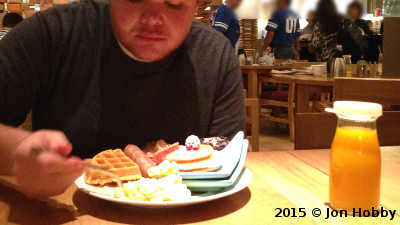 The Forum Tower is all about location. (Above: yellow highlighted building) It is the center of Caesers. Close to shopping, entertainment, food and many, many tables. This tower plants you right at the heart of the Caesers experience. (Right: Jon's buddy enjoying a wonderful brunch at Caesars Bacchanal Buffet)
FORUM TOWER QUICK SUMMARY: You can quickly walk from the elevators to the Colosseum, the poker room, the Forum Shops and countless tables. The Forum Tower has never been my favorite, but I see the appeal. The Forum Tower is a little less expensive than the newer construction. Low floor views are poor with the Colosseum blocking the view. I would just drop the extra cash and book a room with a view in newer construction. HOWEVER, you might want to consider the Forum Tower Emperors suites, great views. They are affordable (for 2,900 square feet of pleasure). Go check them out, AMAZING!
The Palace Tower is the massive rear tower sitting like a vertical stabilizer on a 747. Opened in 1998 this tower became the standard for Caesars. (Above: green highlighted building)
PALACE TOWER QUICK SUMMARY: It is a little hike from the Palace Tower to The Strip, but these rooms are often priced very similarly to the Forum tower rooms. Why not get a view and burn a few extra calories? If a view and nice accommodations are on your list, you may consider this the starting point. It is also away from the night club so rooms are pretty quiet. Rooms are modest and you will NOT be asking, "Why did we get the four-thousand square foot villa with a tiger in the bathroom again?"
Quick shot of the scenery at the Forum Shops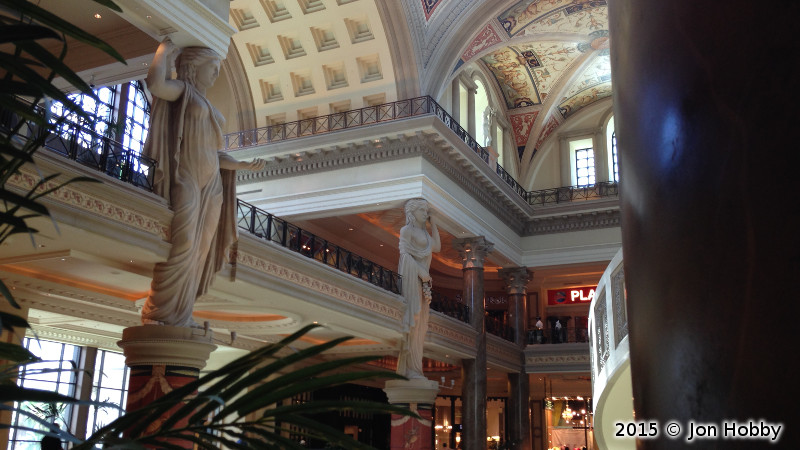 Augustus and Octavius Towers are at the Southern end of the property and are the most recent additions and I am combining the two. (Top: Octavius in cyan and Augustus in orange)
AUGUSTUS AND OCTAVIUS TOWERS QUICK SUMMARY: Get a south facing room in Augustus and you have an amazing view of Lake Bellagio. Some South facing rooms in Octavius have great lake views too. If you are a regular and are sick of seeing thousands of people gawk at some sprinklers get a north facing room and relax. Augustus opened in 2005 and Octavius in 2012. As of 2014, there is a Starbucks on the lobby floor just under Augustus Tower, we always hit that on our way out. When in doubt book one of these towers. Augustus Tower is on the corner of awesome and awesome and ten billon miles away from the forum shops and night clubs.
Last Updated: 17 November 2015
---
More to come....
...