Poker Chip Buying Guide
(advertisement where available)
The Poker Chip Buying Guide - Chip Types:
What kind of chips do you want? There is always someone, "I want poker chips! Do you have those?" There is quite a variety of poker chips and it helps if you are prepared and educated about this subject. There are several major categories of stock poker chips you can just order and go.
Low End Chips
- These are generally mass produced and available for not much money. They are flimsy plastic. Everytime I see these two thoughts shoot through my head. "Dollar store!" "Toy isle!" I've never seen these with denominations, labels or inlays. They don't have metal inserts and can be translucent. The weight, texture and size vary greatly in this segment. Weights I've measured are between 4 and 7 grams.
Pros: Cheap
Cons: Cheap
Metal Insert Chips
- These chips have a metal slug and feel like plastic. They have sticker labels and most weigh between 11.5 and 14.5 grams. Depending what chips you are used to…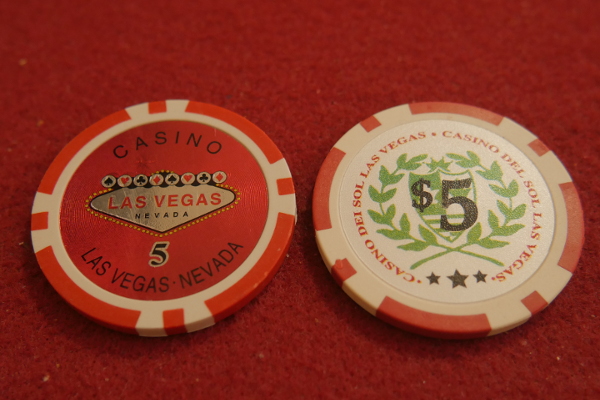 Pros: Very inexpensive, many designs to choose from. An okay material to start with
Cons: Many have flashing around the edges making them prickly, can feel heavy, many have flatness issues making stack stability an issue, labels can peel off - more on this later
Ceramic Chips
- Despite their name, these are not ceramic. These chips are like so many people in hollywood, pretty, but plastic. These are made of a hard plastic and don't have a metal insert. They weigh around 9-10 grams.
Pros: Smooth edges (no flashing), great weight, full chip graphics, generally very flat and easy to stack
Cons: Can take 3 weeks or more to ship as some are made to order, some people don't like the bright sound, can be slippery compared to some other casino chips
China Clay Chips
- These are made in India. I'm kidding, they are called China clays for a reason, made in China. These are plastic chips with a good texture, a sticker label, no flashing and weigh around 9-10 grams.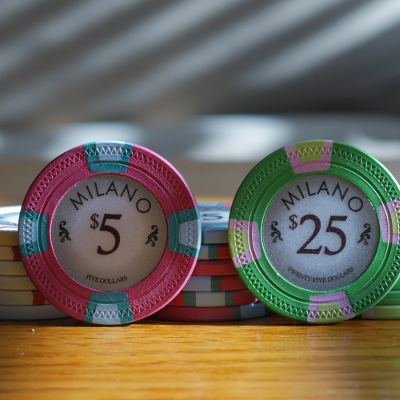 Pros: Feel similar to broken-in Paulson casino chips, more affordable than premium chips, easy to customize with labels, good texture, good weight
Cons: Labels can peel, can smell of plastic, not as wide of a selection as metal insert chips, don't have square edges like new some new premium chips which make it difficult to do certain tricks
NexGen Pro Style Chips
- These are plastic chips with a very limited selection. No metal insert, square edges, sticker labels and weight 8-9 grams.
Pros: Less expensive than China clays, lightweight, no smell, no flashing and clean square edges
Cons: Not much selection, harder to find at this latest update (2020), sticker labels can peel off, can be slippery, some don't like the lightweight material
Premium chips
- This has varied greatly over the years; right now I would just place Classic Poker Chips (CPC) as the only current producer of premium chips available to the home market. This hopefully will change. These have an embedded inlay instead of a sticker label. They weigh around 10g and sound bright.
Pros: Feel very similar to Vegas Strip casino chips, customizable, inlay does NOT peel out (unless you break, burn, melt, cut or mill it out)
Cons: Expensive, can contail brass or other metal inserts.
Key Point
- Once you have narrowed your selection, please get samples. Ordering samples can give you a lot of insight into the differences between the chips when you can actually feel them. I would not order a large number of chips without getting samples first.
There are some vintage sets out there as well. The availability of these fluctuates so much it is beyond the scope of this article. Please visit PokerChipForum for the latest news in the poker chip world.
Poker Chip Buying Guide CONTENTS
Page 01 - Intro
Page 02 - Budget
Page 03 - Direction
Page 04 - Chip Materials
Page 05 - Chip Types (You Are Here)
Page 06 - Quantity
Page 07 - Breakdown
Page 08 - My Experience
Page 09 - Recommendations
Page 10 - Useful Links

(advertisement where available)
Last Update: 29 Mar 2020